At the end of January, a small crew of the Octopus Foundation has gathered on the shore of the Étang de Thau, in the South of France, to put in place winter diving training sessions.
The main focus of this subaquatic training is to allow the crew to further work together, drill the underwater techniques and increase the overall efficiency when conditions are difficult due to cold water and poor visibility.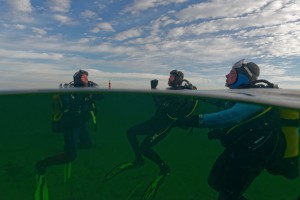 For this winter training, the crew is collaborating with the DRASSM (the French research department of underwater archaeology) based in Marseille, which is part of the French culture ministry.
For these first dives, the selected underwater site is called Montpenèdre. The DRASSM has already studied the area and found some protohistoric habitat remains dating back to the Bronze Age. Those remains were once submerged, and are today located between oyster farms and rocky outcrops.
Although the diving conditions were very good (especially the visibility), the underwater archaeological site proved to be completely covered by sediments.
More winter dives are scheduled, both on protohistoric sites like this one and more modern wrecks, in the Etang de Thau or in the open sea.