On September 30 to October 14, 2019, the Octopus Foundation team provided support to archaeologist Fabien Langenegger from OPAN. No less than 11 divers worked tirelessly to remove the sand and then study a 16th century wreck in Lake Neuchâtel (Switzerland).
This time, the less favorable weather left us but a few days to work. These shorts sessions of relative calm weather were particularly productive, thanks to the use of the extremely functional OPAN barge. It took us quite some time to get used to the barge's powerful sediment vacuum cleaner, as to not damage the fragile remains.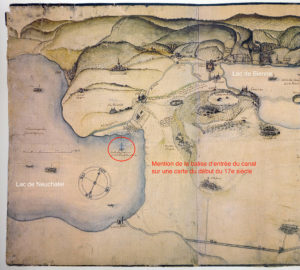 Under 40 centimeters of sand and mud, the intensive work of the divers made it possible to uncover the entirety of an exceptionally well preserved boat. Thanks to the study of dendrochronology, the scientific method of dating wood in function of growth rings, it was possible to date the boat's wood back to 1537.
This incredibly precise date was later confirmed by the discovery of a silver coin found stuck between the frames of the wreck, dating from 1622.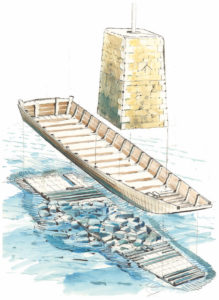 It seems that this wreck, which had probably become too worn out sometime in the middle of the 17th century, was finally deliberately sunk at this precise place to serve as the base for a stone beacon marking the entrance to the Thielle canal, connecting Lake Neuchâtel to Lake Biel.
After two weeks of excavations, the Octopus Foundation team was able to produce an impressive 3D model of the wreck as well as an ortophotoplan, obtained using photogrammetry made up of more than 700 very high resolution photographic images. This scientific tool now serves as a study base for archaeologists, with the numerous samples and other drawings made in situ.
In order to preserve the remains as much as possible, the wreckage was finally completely covered with sand at the end of the mission. This is because exposed wood would not withstand the assault of storms, as well as the slow destruction from sunlight, oxygen and bacteria.
We will especially remember the night dive, which allowed for a series of spectacular photos and videos.
To convey to the public the discoveries made on this exceptional wreck, the media L'Illustré and Couleur 3 made the trip. We would like to thank them warmly for giving their readers and listeners the opportunity to discover these archaeological excavations in one of our Swiss lakes. Proof if it were necessary that archaeological treasures still lie dormant in the aquatic depths a few steps from our home.
You can find the entire project "Endangered wrecks of Lake Neuchâtel" here (only in French for the moment): https://octopusfoundation.org/project/epaves-peril-lac-neuchatel-latenium/