Homerous has been swimming in the wild since October 2016. This marine turtle became famous on the small island of Lampedusa, where she stayed more than eight years at the Lampedusa Turtle Rescue. A long time necessary to heal her deep wounds.
Thanks to an Argos GPS beacon firmly glued to her back, we can now follow her every moves (see above map). That is, until the battery dies out.
Daniela Freggi, the Lampedusa Turtle Rescue director, had to learn to live without her favorite marine turtle. "At first, she says, no other turtle was put in Homerous' tank. Until we received a young specimen that needed enough room to move around. It was really weird in the beginning, but we are slowly accepting the fact that Homerous has become a story. A story with a beginning, and now an end."
In the first couple of weeks of freedom, it seems like the most famous Italian turtle wasn't really keen on leaving the island that had become her home for the better part of the last decade. Yet, the calling for the open sea proved too strong to resist, and she literally took off toward the South-West. Her velocity put to rest all the worries about her physical health.
The Italian specialists are not surprised by Homerous' itinerary. "She has been spending the last months in the Gulf of Sirte, explains Daniela Freggi. It is exactly where we hoped she would go, because it's a Mediterranean hotspot for winter food. Now, I would really like her to start moving towards Greece. It would mean she is looking for a place to hatch. Spring is the breeding season for marine turtles."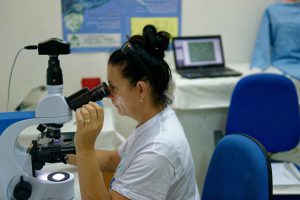 Despite all of the emotions that are stirred by this adventure, Daniela and her team of volunteers don't have the luxury to be nostalgic. "Since last October, says the French-Italian biologist, we took care of around 30 new turtles. Our procedure is now very well oiled: we collect a blood sample as soon as the animal is brought to the clinic. No matter if it's an old turtle or a young one, healthy or sick. It's still too early to draw scientific conclusions, but the new centrifuge and microscope are a huge help. We now have a photo of each blood sample. This kind of data will probably allow us to write thesis in the future."
And things will not slow down any time soon. There is a near constant flow of new marine turtles brought to the Lampedusa Turle Rescue by Italian fishermen. "The novelty, explains Daniela Freggi, is that one of the fishermen has begun to send me WhatsApp messages. It's amazing, because today I already know that he will be bringing me three new specimens tomorrow. And with the photos, I can estimate their size and physical health in advance. These new technologies are beautiful new bridges between the fishermen and us."