3The Octopus Foundation, founded in 2015 by Franco-Swiss journalist, sailor and diver, Julien Pfyffer, has for mission to promote the exploration of the marine world in the fields of biology and underwater archaeology and to make the knowledge gained accessible.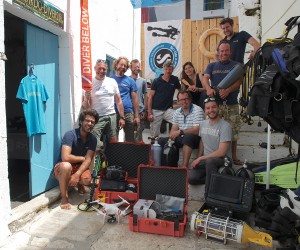 Geneva, February 9, 2016 – Seventy-one percent of our planet is covered by water and only 5% has been explored to date. The Octopus Foundation was established on the basis of this observation by journalist, sailor and diver Julien Pfyffer.
"By initiating and directing several expeditions at sea I realised how much marine exploration is in its infancy," he explained.
"As a reporter for several mainstream media (Time Magazine, Paris Match, Le Figaro), I fully understood the vast gap that exists between scientific research and the general public.
"The Octopus Foundation, a recognised charity, has been established to support exploration but also to raise awareness amongst the general public and the media."
The Octopus Foundation's mission is to provide financial support to select projects and to assist field researchers by offering operational, logistics, technical and media support.
To achieve its objectives, the Octopus Foundation aims to build strong partnerships with the International Union for Conservation of Nature (IUCN), the United Nations Educational, Scientific and Cultural Organisation (UNESCO), and to work closely with renowned research institutions such as the University of Geneva (UNIGE), the University of Lausanne (UNIL), the Museum of Natural History of Paris and the US' National Oceanic and Atmospheric Administration (NOAA).
In 2015, the Foundation completed a pilot project off the coast of Cephalonia in the Ionian Islands of Greece where they studied the remains of a Bristol Beaufighter, a British fighter aircraft, shot and sunk by the Germans at the end of World War II. Using the latest technology, the Foundation's team demonstrated that it is possible to 'immerse' the audience, to take them onto the seabed to observe, in 3D, the biological and archaeological treasures of the marine world.
In 2016, the Octopus Foundation plans to support two projects in the Mediterranean. These will be announced on the website www.octopusfoundation.org.
One of the Foundation's teams is already training in France, in the Thau lagoon. "The dive training that we are currently carrying out is designed to test our ability to collect the type of material that we collected on the pilot project in Greece, but in much more challenging temperature, visibility and weather conditions," said Julien Pfyffer.
"We are doing these dives in partnership with the Department of Underwater and Submarine Archaeological Research (DRASSM), to study traces of Neolithic human settlements in the region," he added.
The Octopus Foundation wishes to keep the public informed of its activities and with this goal in mind, it has commissioned MaxComm to raise awareness of the results and findings of the Foundation's various projects.
To stay up to date with the Octopus Foundation's news, please go to:
Web: www.octopusfoundation.org 
Facebook: www.facebook.com/theoctopusfoundation 
Instagram: Octopus_Foundation
Twitter: @OctopusSwiss