Last September, the film "Orikum's Mysteries", produced by the Octopus Foundation and Ocean 71 Magazine, was selected during the Festival of Archaeological films in Narbonne.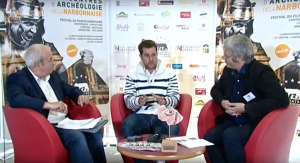 The film follows a crew of archaeologists from the Geneva University working on the unique site of Orikum's ancient city, in Albania.
"It's important, being selected here in Narbonne. That way we can directly interact with the public. It's the last stage of the help offered by the Octopus Foundation. What would be the point of research and exploration if the public couldn't appreciate the end result?" asks Julien Pfyffer who was present in the South of France to present the film. "I was happily surprised to see the strong interest the public showed for this archaeological project in Albania. We really enjoyed a half an hour of question-answer at the end of the projection."
A thrilling success, showing once again that the public appreciates the outreach of scientific research in the archaeological or biological fields.