As suspected, 2020 was going to be a year like none other. We were nevertheless surprised by the intensity of our Greek field mission, where we planned to perfect our open source systems to monitor the Mediterranean monk seal.
The adventure began with the Covid-19 crisis, which de facto postponed the field mission initially scheduled for late May. It finally took place early July, just about the minute Greece's border with its neighbouring countries was reopened after months of uncertainty.
Two months earlier, however, the confinement period allowed us to take a step back and ask ourselves some (good) questions, such as the relevance of our means of transportation: Was it really reasonable to keep on using planes as if they were buses ? Was flying around absolutely necessary to explore and understand the oceans to better protect them, while they are clearly suffering from climate change ?
From sky to asphalt
After some deliberation, we decided to acquire a second-hand van to transport the Octopus Foundation's team and the field equipment, while taking advantage of the extensive network of ferries that crisscross the Mediterranean.
Fast forward to our arrival in Greece early July, after several hundred kilometres of Swiss and Italian highways and a night-long ferry trip to cross the Adriatic Sea. Two days and two nights after our departure from Switzerland, we could almost touch our final destination with our fingertips: the island of Kefalonia. All we needed was a short ferry trip from the mainland to the largest of the Ionian Islands, but all we heard from the company's employee was: "Sorry but the boat is fully booked, our capacity is limited to 60% because of the pandemic …". Stunned, we watched the ferry close its doors and depart from the docks.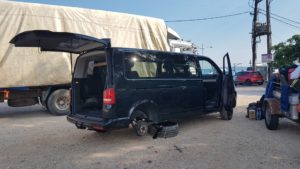 Undeterred, we found another company with larger boats ready to welcome us. We had 5 hours to travel 60 kilometers and catch this bigger ferry. This time, we had the precious tickets in hand. However, the rugged Mediterranean roads still had a few surprises for us… two punctured tires later, we found ourselves a mere 100 meters from the dock of the 2nd ferry with only three functioning wheels on our van! Our journey was slowly turning into a modern Odyssey. Was it really a coincidence that Ithaca was a stone's throw away from us?
Our legendary luck hadn't completely dried up. Our saviors, a family of German travelers, happened to have the exact same van as ours, and was boarding the same ferry but to a different destination: Ithaca. They agreed to lend us their spare wheel… 20 minutes before the departure of the ferry.
The field mission can begin
It took us three days, but we finally made it to Fiskardo on the island of Kefalonia, where we were able to start our work on the monk seal.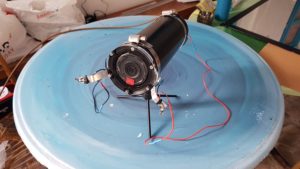 The program was simple yet intense. We had to update the three prototypes in place, by replacing the modules that had been damaged during the winter months (cameras, 3G / 4G router, microcomputer, Ethernet cables, etc.), upload the improved software, install a 4th and last prototype in a test cave and better place some inside cameras in order to improve our ability to identify monk seals.
One of the important goals of the 2020 mission was to test two new experimental modules: a waterproof camera to follow seals directly in the water, and a sound recording tool to try to relate the potential vocalizations made by seals in the caves with the photos that we receive every quarter of an hour.
Finally, this third field mission was going to allow an additional shooting for the 52-minute documentary in preparation since 2018 to introduce this species usually unknown by the general public.
Monitoring of four different caves
After 12 days of work, on 4 different caves spread over 3 islands, mixing diving, underwater caving, rock climbing, navigation and work under a blazing sun and extreme temperatures, the Octopus Foundation team is proud to present the first technical results of this 2020 mission.
The four sites are now technically operational. For each of them, we remotely receive a pair of photos every 15 minutes that allow us to simultaneously observe the situation outside and inside of each cave.
Within 48 hours of performing our maintenance and installation work, the monk seals were back in three of the four caves. For the underwater camera, the seals appeared less than 12 hours after installation. This test module looks very promising since it was installed in a cave without a beach (with just an air pocket where the marine mammals can breathe) in which we have already been able to observe seals sleeping completely immersed in the sea water. It remains to be seen how long this equipment will withstand this harsh environment, and keep collecting valuable information for biologists that are studying these endangered animals.
Nothing is ever set in stone.
Now that the mission has ended successfully, I would like to thank the exceptional team with whom I have the immense privilege to work. Their ability to adapt and find solutions to often complex and sometimes dangerous problems is remarkable. The team "Octopus" has never lived up to its name so well.
I would also like to thank the local teams with whom we have been working closely since the start of this project, such as Kosamare, the Ionian Dolphin Project, Fiskardo-Divers, Odyssey Outdoor activities, the locals of Fiskardo (Richard, Tullios, the team from Palazzo, Vasso's to name a few) for their invaluable help and kindness, as well as our partners in Switzerland and France, the IUCN, Octanis, Faktoria, and the Seaquarium Grau-du-Roi.
Our eternal gratitude to all of our sponsors, especially the SmileWave fund, without whom this project would not exist.
Open-source technology
Finally, I would like to remind you that this open source, autonomous and connected monitoring system to better understand monk seals is developed and tested by the Octopus Foundation team (based on an original idea by Emanuele Coppola), to benefit the greatest possible number of marine biologists who study this endangered Mediterranean species.
With a cost voluntarily limited to 1600 Euros per unit, we hope that it can be improved by the community, assembled and installed in sufficient numbers by biologists to allow, in the years to come, to assess more precisely the geographical distribution and the number of monk seals present throughout the Mediterranean basin.
Julien Pfyffer
Founding President of the Octopus Foundation