In July of this year, the Octopus Foundation team spent two weeks on the Italian island of Lampedusa to assist the Turtle Rescue center. At the end of October, a second mission took place. Once again, we met with Daniela Freggi and her team of volunteers. This time, for a very special event: the release of Homerous, a Caretta Caretta marine turtle who followed an eight-year-long rehabilitation program at the center.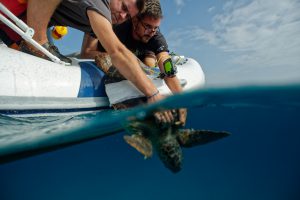 The objective for the last mission of the year was to attach a Radio beacon to the turtle's shell, in order to follow its journey back to its natural habitat. With the help of this device, we wish to answer a question that many specialists ask: following a long-term captivity, can a marine turtle find its way back into the wild and regain a fully autonomous life?
During the three-day long mission in October, two other marine turtles were released while we filmed their new-found freedom. The incredible footage can be seen here.
For the Octopus Foundation, the collaboration with the Lampedusa Turtle Rescue clinic is a success. "The results for this 2016 project are very encouraging," explains Julien Pfyffer, at the head of the foundation. "We were able to finance the purchase of scientific tools that will allow the Italian crew to better understand the biology of these still largely misunderstood reptiles. We also produced many media supports that will inform and interest a large public."
The two missions of 2016 brought new ideas to the center with the help of our talented team. A photo exhibition and a graphic novel are currently being produced to illustrate this project. They will be published in the beginning of 2017.
We end the year with a successful partnership that is bound to grow over the next few years. The Octopus Foundation will share all the information on the work done by the Italian center to various mainstream medias, to keep raising awareness. As for now, a visit in Lampedusa is not on the 2017 program.