From May 20 to June 6, 2019, the Octopus Foundation team was in the Ionian Islands in Greece to study the Mediterranean monk seal alongside biologists Joan Gonzalvo in Vonitsa (Ionian Dolphin Project & Tethys Research Institute) and Cédric Georges in Fiskardo (Kosamare & Fiskardo Divers).
This mission, in partnership with the IUCN, is the continuity of a project that began in 2018 when the opportunity arose to develop an innovative tool to improve the study of the monk seal: an autonomous and connected monitoring system.
This fully open-source tool, the cost of which must not exceed 2000 euros, is programmed to monitor isolated sea caves. These caves, which are often difficult to access, are used by monk seals to rest after days or nights of hunting. They are therefore ideal places to observe and study these animals, which are great swimmers and apneists, often preferring to avoid contact with humans when they are at sea.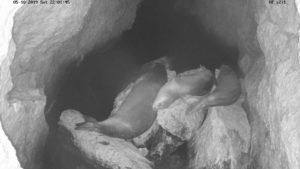 Thanks to infrared cameras that send their images to a secure server, biologists can study the presence or absence of animals without having to enter the caves and disturb their well-earned rest. The solar panels provide our system with energy and the 3G / 4G routers connect each of our systems to the local telephone network to send us the photos remotely.
Following the 2018 and 2019 missions, three caves are now equipped with these monitoring tools. Many seals have been photographed and identified. In the long term, the goal is to deploy several dozen of these autonomous systems across the Mediterranean in order to more precisely assess the distribution of this emblematic species.
A video documentary has also been made during the two weeks mission, with stunning footage of this endangered species, as well as drawing by our skilled artist Antoine Bugeon.