From April 5 to 19, 2019, the Octopus Foundation team provided support to archaeologist Fabien Langenegger, underwater archaeologist from OPAN to study the remains of an ancient shipwreck.
Over two weeks, the team participated in the excavation and study of remains dated back to the 18th century. This flat-bottomed barge was first discovered from the sky, thanks to its massive load of limestone blocks sticking out from the sand. The entire wooden boat was sheltered from storms and oxygen under a thick layer of sediment.
Using a sediment vacuum cleaner, the divers carried out dozens of dives to uncover this vestige of our past. Over the centuries, thousands of boats have sailed on our lakes to transport the heaviest and cumbersome goods. Before the correction of the waters of the Jura, the level of Lake Neuchâtel fluctuated enormously, and marshy areas were numerous, making land travel complicated.
Most of the boats that sank have completely disappeared, as storms broke them apart. Only those carrying a load heavy enough to push the boat to the bottom were protected by the sediment that covered them.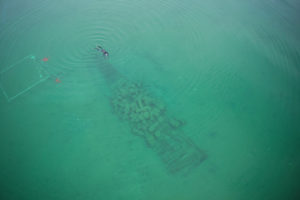 Thus, after a two-week excavation mission, and complete documentation of the wreckage (including numerous measurements and digital 3D models), the team completely recovered the wreck with the piles of sand. This solution ensures the best conservation of the wooden wreck, despite inevitable lake erosion.
Among the findings, the team uncovered a carpenter's hammer in perfect condition, a metal belt buckle, a long chain that was used for mooring, as well as numerous nails. Photogrammetry has produced very high quality underwater orthophotoplans, allowing scientists to continue studying the wreckage from their office.