During the month of October, some caves in the Ionian Islands become nurseries for the Mediterranean monk seal.
Thanks to the autonomous cameras that the Octopus Foundation has installed, biologists are able to follow remotely, and therefore without disturbing the animals, some of the long-awaited new births of this particularly endangered species.
Indeed, because of the presence of men on the beaches for part of the fall, the female monk seals have chosen to hide in the bottom of sea caves to give birth.
This year, the first birth that could be recorded took place on October 6th at around 5:30 am. A baby seal, completely black except for a white patch on its belly (which has a unique shape for each newborn), appeared on the beach. The mother and her baby will stay in this cave for six days and six nights. Time for the young seal to have enough strength to face the sometimes turbulent waters of the Ionian Sea.
Thanks to the monitoring system, which takes a photo every 15 minutes autonomously and continuously, scientists can observe the animals from all angles, as they move on the beach. Thus, it is often possible to identify individuals by their specific markings.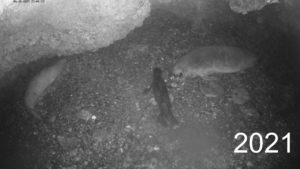 After comparing the images from October 6th, 2022 with those from last year (2021), we were amazed to discover that the same female (Big Stars) gave birth in the same cave, on the exact same date, two years in a row. Everything suggests that Big Stars particularly appreciate the conditions offered by this cave to give birth.
As can be seen in the video below, Big Stars seems relatively unhappy that other seals come too close to her pup (located on the far left in the images). This video was recorded a few hours after the birth.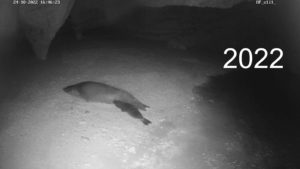 On October 19th, 2022, some 13 days later, another birth took place on the beach of another cave that we are monitoring with biologists. This beach is particularly large, and the seals stayed too far from the camera to be identified. Curiously, this same cave had also been the place of a birth on October 18th, 2021, as well as at the beginning of November 2020. Is this the same female who would have returned for two, or even three consecutive years to give birth in this particular beach? We can't be sure.
But the two births of 2022 are excellent news for this species, still classified as "endangered" on the IUCN red list.